The pneumatically operated pump for the grease lubrication system
The pneumatically operated pump for the central grease lubrication is made of high-quality materials. It is equipped with a piston in its grease reservoir for monitoring the grease level.
The grease pump is controlled by an electronic or mechanical pulse generator, depending on the available power supply. A trailer is often equipped with a surge brake. A lubrication cycle for the surge brake is carried out based on a preset number of brake servos. A timer is often applied to a towing vehicle, and based on a preset time interval, a lubrication cycle is performed.
The correct operation of the greasing system is visually indicated by an LED indicator light, mounted on the dashboard. It will light up during the lubrication cycle of ± 3 minutes and then go out again. If the indicator light remains on continuously, this indicates that there is a fault in the system. A pressure reducing valve must be used at air pressures higher than ± 12 bar. The single pipe system is based on 0 or 00 grease (NLGI number).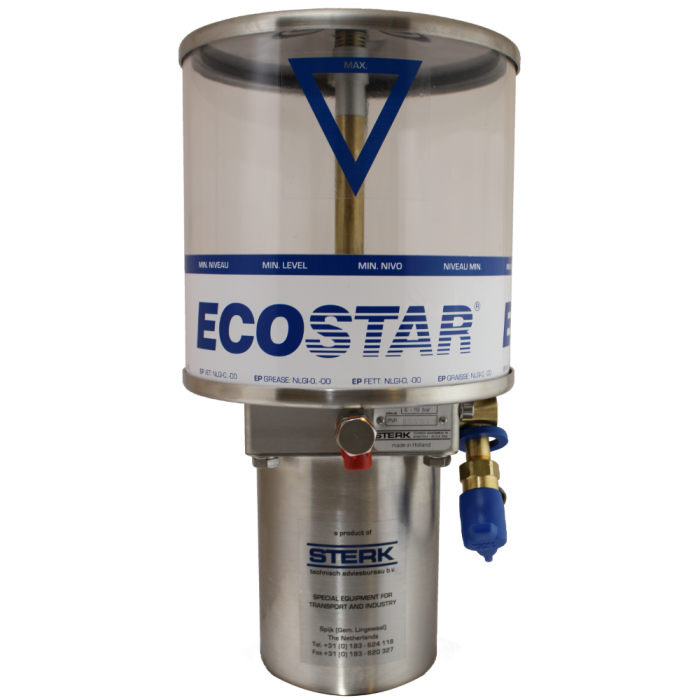 Scope
The lubrication system is widely applicable through custom installation packages to:
Tractors
Semi-trailers
Trailers
Construction equipment (barrier systems, loading lifts, truck-mounted crane, tipper and pump for concrete)
Power supply
The Ecostar PVP grease pump has been developed for pneumatic supply from 6 to 12 bar working pressure. It can be powered electronically or pneumatically.
Service
The Ecostar lubrication systems can be operated in different ways, namely:
Via a timer (adjustable time interval).
Using a pulse generator (electric or pneumatic. by counting certain pulses. For example: brake servo or valve actuation.
Through PLC control, by using some simple signals from the PLC.
Installation
You can easily install the lubrication system yourself or have it installed quickly by one of our trained staff member.
Your advantage
Sterk Ecostar central grease lubrication extends the life of your valuable equipment and also reduces maintenance costs.
Want to know more about our pneumatic lubrication systems?
Just give us a call or come by our office and workshop. We'll come up with the right solution for you!